Sports » Latest News
Sports
Posted: Jul 05, 2022 7:46 AMUpdated: Jul 05, 2022 8:46 AM
Final Pool Play Game for Castillo and Team USA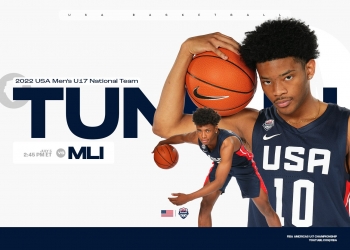 Third and final day of pool play for Team USA in the FIBA World Cup in Spain this afternoon.
Bartlesville High guard David Castillo has been one of the highlights for the club through two games.
Castillo has scored 29 points with seven made three-pointers in the first two games of the event. The US earned wins over Slovenia and Lebanon. Today the U17 club takes on Mali at 1:45 PM on Tuesday afternoon.
You can watch the game on the FIBA YouTube page.
Castillo is making his second appearance on a Team USA squad. He will be a junior at Bartlesville High School this coming fall.
(Photo from USA Basketball)
« Back to Sports