Sports » Latest News
Nowata Football
Posted: Aug 14, 2019 5:19 PMUpdated: Aug 15, 2019 3:57 PM
Energetic Ironmen Begin Practice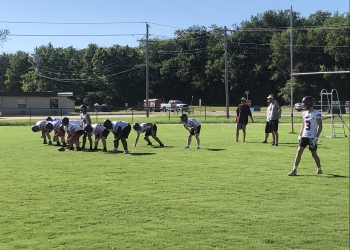 Our look at fall football camps around the area takes us to Nowata today where the Ironmen have been holding up-tempo, high-spirited practices all week. The Ironmen enter their first full week with Chris Messner as head coach. Messner did serve as an assistant under former head coach Bob Craig last year so he does have familiarity with the program. Messner likes what he has seen in the opening days.
The focus has been on offense in the first few sessions. The Ironmen will continue with helmets only workouts for the next few days. Junior Trenton Smith led the first-team offense up and down the field during offensive tempo drills. Messner says the base offense will be similar to last season.
Nowata is trying to bounce back after totaling just one victory over the last two seasons. The Ironmen open up August 30 against Oklahoma Union. Don't forget you can listen to select Ironmen games on KRIG 104.9 FM all season long.
« Back to Sports