Sports » Latest News
OKWU Basketball
Posted: Dec 04, 2019 2:49 PMUpdated: Dec 04, 2019 3:49 PM
Eagles Square Off with Rival Southwestern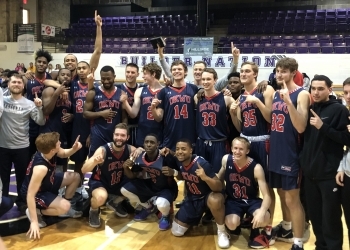 Oklahoma Wesleyan basketball plays a monumental doubleheader on Thursday as the Eagles head to Winfield, Kansas to take on Southwestern College. The Eagles and Builders have a flare for the dramatics on the men's side. The Eagles beat Southwestern on the road last season to clinch the Kansas Collegiate Athletic Conference regular on a Jake Feickert buzzer beater. In 2018, K.J. Malveau hit the game-winning shot with 30 seconds left. In the last two years each team has three wins in the series, a regular season conference title and a KCAC tournament finals win over each other.
Both teams look vastly different this year though. The Builders have struggled out to 1-4 conference start, while the Eagles are 4-1. A big part of the success through a transitional phase has been senior Forward Lance Tipton. Eagles head coach Donnie Bostwick says Tipton does a great job running the offense from the post.
Tipton has four double-doubles in eight games played this season.
On the other side the Lady Eagles are looking to snap a two-game losing streak against the Lady Builders. Southwestern inherited three transfers from OKWU this past offseason including Bartlesville High School graduate Lauren Richter. OKWU has won its last four game against Southwestern on the women's side.
The doubleheader will start at 6 p.m. Radio coverage can be heard on Sportstalk 99.1 FM KPGM.
« Back to Sports