Sports » Latest News
OKWU Basketball
Posted: Dec 02, 2019 9:53 PMUpdated: Dec 02, 2019 10:53 PM
Eagles Men Win 6th Striaght; Ladies Fall to Ranked Foe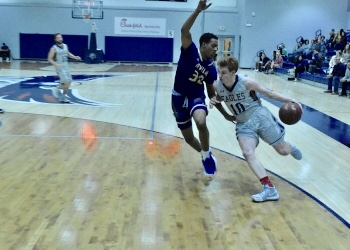 It was split night at Oklahoma Wesleyan University as the Eagle men beat Sterling handily, while the Lady Eagles were on the wrong side of a top 25 battle. The men's team struggled out of the gate but used some hot outside shooting to defeat the Warriors, 82-63.
OKWU slogged out of the gate as it trailed 17-6 eight minutes into the game. The Eagles would find their footing though and took a 38-30 lead into halftime. Sterling would hang around in the early moments of the second half but the Eagles would play with a double-digit lead for most on the second half.
It was another show from Brooks Haddock as he led all scorers with 29 points. Haddock tied a career best with seven three-pointers on the night.
Lance Tipton also starred with 16 points and 13 rebounds for his fourth double-double on the year. The OKWU men have now won six straight games and are 9-2 overall.
The Lady Eagles kept up with No. 16 Sterling in the first half but a 12-0 run out of the gate in the second half put them too far back. OKWU women lose, 84-68. Brittan Garrett put up a season-high 16 points in the loss. The Lady Eagles fall to 7-2 overall and 3-2 in conference after their second straight loss.
Both teams head on the road on Thursday with a trip to Southwestern College in Winfield, Kansas.
« Back to Sports