Sports » Latest News
Dewey Football
Posted: Aug 10, 2019 6:14 AMUpdated: Aug 12, 2019 12:01 PM
Doggers Take Practice Field for First Time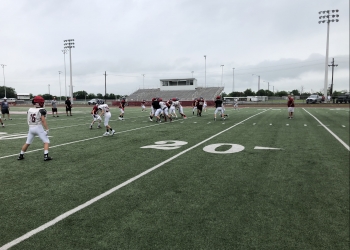 Well the day is finally here for high school football practices to begin around the state of Oklahoma. Some teams have three weeks to prepare for their openers while other teams have four weeks.
In Dewey, there is a buzz around this year's team as several new additions look to aid the Doggers to an improved 2019 campaign. In total, 49 Doggers will trot out for the first practice. First-year head coach Trent Turner tells us what to expect in the first few sessions.
Seniors like Chaz Ostermeier, Todd Flood and Dylan McDaniel should help lead the Doggers up front. However, Turner says every offensive line spot is up for grabs in fall camp.
The Doggers new offensive scheme will emphasize zone running and play-action passing so play in the trenches is critical. Turner also noted that the skill players give Dewey a new athletic edge.
We will have coverage from Dewey practices this week as well as several other area schools. The Doggers open up against Turner's former team, Adair, on August 30.
« Back to Sports