Sports » Latest News
Dewey Football
Posted: Sep 14, 2021 3:17 PMUpdated: Sep 14, 2021 4:17 PM
Doggers Hoping to Reset After Bye Week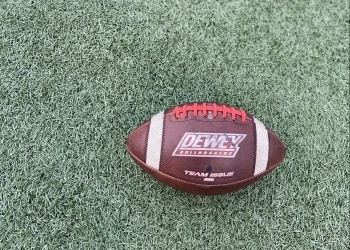 The Dewey Bulldoggers got an early chance to reset after an 0-2 start to the season. The Doggers were a mere handful of yards away from being 1-1 but a fourth quarter two-minute drill stalled out in a 30-24 loss to Miami during zero week.
Offensive consistency is something the Doggers are hoping to improve in the final non-district game against Vinita this Friday. Between three quarterbacks who have thrown passes, Dewey is completing just over 30% of its throws. Head coach Trent Turner talks about how the passing game can step up.
Dewey has big play potential through the air as the team has completed five passes of more than 20 yards in its two games played. Senior Tate Lewis has started both games at quarterback so far. Trent Muninger and Jace Williams have also seen a few reps.
Dewey plays at Vinita on Friday night—a game that can be heard on KRIG 104.9 FM. We will have more on the Doggers later this week.
« Back to Sports