Sports » Latest News
Dewey Football
Posted: Aug 12, 2019 5:30 PMUpdated: Aug 12, 2019 6:30 PM
Doggers Hold First Practice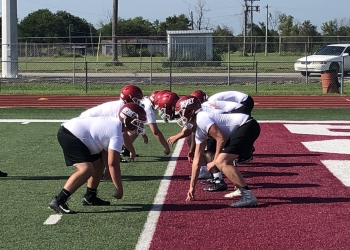 It has a hot first day of practice as temperatures reached triple digits across the area. In Dewey, spirits were high despite the heat as the team went through their first organized reps of fall camp. New coach Trent Turner led the team through a mix of drills and conditioning. Turner says this practice was a good start.
Turner tapped his offensive roots by spending a majority of his time working with quarterbacks. Turner led a high-profile offense at Adair last season on the way to the 2A state semifinals. The Warriors are also Dewey's opening opponent on August 30.
The Doggers reported 49 players on the roster for the start of camp. Only a few injuries are present with the opening game less than three weeks away. The added bodies give Dewey a better sense of depth than in previous seasons. Turner says several new players saw the appeal of the gridiron.
The Doggers went with a helmets only practice for their first session. The team will add pads and hitting to the mix for the first time on Friday.
« Back to Sports