Sports » Latest News
Dewey Baseball
Posted: Apr 17, 2019 9:42 AMUpdated: Apr 17, 2019 10:42 AM
Doggers Continue Hot Streak; Sweep Caney Valley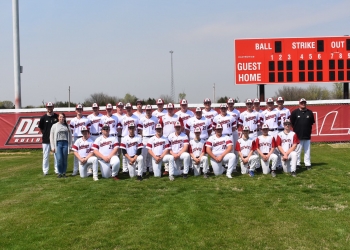 The Dewey Bulldoggers are continuing to build momentum as the baseball regular season nears its end. The Doggers picked up a big win over a scuffling Caney Valley team on Monday, 15-10. Dewey came back from an 8-2 deficit through five innings to pull off another victory over the lone ranked team in the area. Dewey tallied 13 runs in the final two frames to secure its fifth win of the season. Jack Davis and Hayden Wood each four RBIs in the high-scoring battle.
The Doggers then completed the sweep on Tuesday with an 8-7 win over the Trojans. Dewey is now 6-17 on the season. Dewey's poor start was well-chronicled as it lost the first fourteen games of the season. However, the Doggers have completely turned the 2019 campaign around. Head coach Geoff Beaty says that's thanks to improved hitting from the top of the order.
The 15 runs scored on Monday were a season high. Dewey has just two regular season games remaining. The Doggers play at Holland Hall on Friday and then host Nowata on April 23. The Doggers have yet to learn their opponent in the 2A district playoffs which begin on April 25.
« Back to Sports