Sports » Latest News
Dewey Football
Posted: May 08, 2019 10:43 AMUpdated: May 08, 2019 11:43 AM
Dewey Spring Football to Start Monday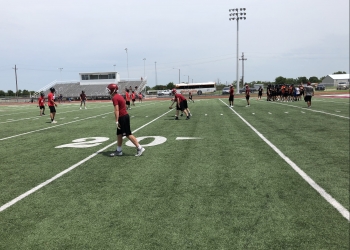 With most spring sports winding down or over it is almost time to turn the page to spring football. Several area teams will be introducing new coaches. In Dewey, new head coach Trent Turner will lead his first practice on May 13. Turner spent the 2016 season as the Dewey offensive coordinator. Most recently Turner was the play caller for Adair, a 2018 2A State Semifinalist club.
Turner is completing the school year as a teacher in Adair. In his absence Turner says his assistants have helped the Doggers make strides in the weight room.
Dewey' staff is largely the same as last season besides Turner replacing Tyler Caid, who served as the head coach for the last three seasons. Caid is now the defensive line coach at Del City. The Doggers are looking to improve on a 2-8 record from last season.
Turner estimates that 30-40 athletes will be out when practices start on Monday. Last year's starting quarterback Kale Carner and lead tailback Zane Lorenz headline the offensive returners. Corbin Buford and Hunter Rumsey will continue to make an impact from linebacker position. The Doggers also project to have four returning starters on the offensive line.
We will have much more on Dewey and several other area teams as spring football begins.
« Back to Sports