Sports » Latest News
Sports
Posted: Feb 23, 2021 7:06 AMUpdated: Feb 23, 2021 8:06 AM
Dewey Boys Lose Heart Breaker in Playoffs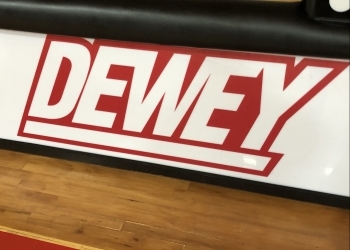 It was a heartbreaker Monday night for the Dewey Bulldoggers, as they led for all but the final 20 seconds of their first-round playoff game - and went on to lose to Newkirk, 48-46.
Trailing by a point with 30 seconds remaining, it was Daniel Harrelson for Newkirk who made a 15 foot jumper to give the Tigers the lead for good. A three-pointer by Jake LaSpisa came up short and Harrelson added another point from the free throw line, which gave Newkirk the 2-point win.
The Doggers got out to a quick 7-0 lead before the Tigers got things going offensively. LaSpisa's 19 points helped Dewey stretch the lead to three possessions on multiple occasions, but Newkirk answered with a run of their own to keep it close each time.
Dewey now plays the loser of Valiant and Henryetta this Thursday at 3:00 PM in an elimination game in the first round of the 2A Regionals.
The Lady Bulldoggers defeated Newkirk 38-33. They will play the winner of Valiant and Henryetta at 6:00 PM on Thursday.
« Back to Sports