Sports » Latest News
Sports
Posted: Nov 23, 2020 7:08 AMUpdated: Nov 23, 2020 8:09 AM
Coaches Breakfast on Saturday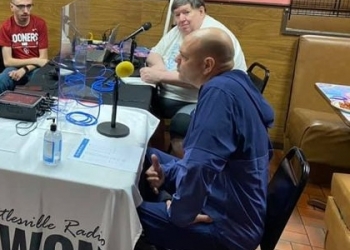 Saturday morning we heard from all the area high school basketball coaches across Green Country, as KWON held its annual high school basketball Coach's Breakfast broadcast.
It was live from Frida's Cocina Mexicana in Bartlesville.
Both the BHS head basketball coaches were there in Lady Bruin skipper Donnie Martin and Bruin boy's coach Clent Stewart.
On the girl's side of things, Bartlesville will have a trio of returners who will anchor the regular rotation. Taketha Valentine, Kate Gronigan and Elise Rovenstine all return for another year.
All three played sparingly at the outset of last season, before becoming regulars toward the end of the year – either due to injury or better play. Martin talks about his returners.
On the guy's side, Bartlesville will look different, with many athletes from last year deciding not to come out for the team this winter.
The Bruins will be young, with only one senior on the team in Adam Nakvinda. He will take on an increased importance this year because of his age and skillset in relation to the other Bruins. Stewart talks about Nakvinda's role on this year's Bruins.
Both the Bartlesville basketball teams begin their seasons on Dec. 4 on the road at Jenks, which is a week from Friday.
You can watch a replay of Saturday morning's program available on our website at KWONTV.com.
« Back to Sports