Sports » Latest News
Bruins
Posted: Jul 05, 2022 4:06 PMUpdated: Jul 06, 2022 8:28 AM
Castillo, Team USA Now 3-0 in FIBA U17 World Cup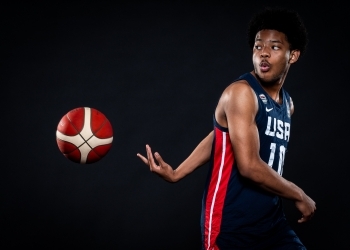 David Castillo and the Team USA U17 basketball squad have moved to 3-0 in the pool play round of the FIBA World Cup. The U.S. team knocked out Mali 112-64 on Tuesday afternoon from San Pedro, Spain.
Castillo played 20 minutes off the bench and scored four points on 2-8 shooting. The Bartlesville High guard was able to dish out six assists in the blowout victory. One of his two makes from the floor came early in the second quarter to build the lead for Team USA.
Castillo is averaging 11 points per game and 3.3 assists per contest through the first three games of the international event. Team USA will play Egypt in the bracket Round of 16. That contest starts at 11:15 on Wednesday morning.
(Photo from USA Basketball)
« Back to Sports