Sports » Latest News
Caney Valley Football
Posted: Sep 14, 2021 2:55 PMUpdated: Sep 14, 2021 3:55 PM
Caney Valley Off to Scorching Start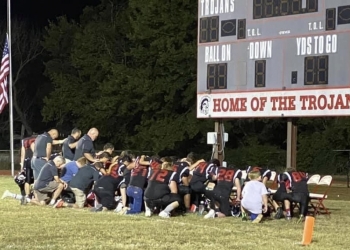 Caney Valley football is off to its best start since 2012 after knocking off Kellyville 22-12 to move to 2-0 on the season. The Trojans have a legitimate chance to go to 3-0 as they take on a winless Liberty team in week 3 action.
Stephen Mitchell has been the coach at Caney Valley for six years and has not ever lead a team to an undefeated record in non-district play. Mitchell has coached many of these kids since middle school and he says it's been fun to watch them grow into success.
Junior quarterback Zak Wallis has seen the lion's share of the reps at quarterback. Wallis has tallied six total touchdowns on the season which gives him 36 total scores in his career. Ethan Nichols competed for the QB spot in the fall and has seen some reps. Nichols scored two rushing touchdowns in the win over Kellyville. Mitchell talks about how both kids have contributed to the team.
Caney Valley has homecoming this week. Kickoff between the Trojans and Liberty is set for 7 p.m.
« Back to Sports