Sports » Latest News
Sports
Posted: May 06, 2019 7:42 AMUpdated: May 06, 2019 8:42 AM
Busy Week Coming up for BHS Tennis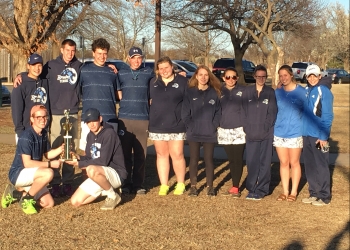 Rain messed with 6A State girl's tennis this past weekend, as the OSSAA had to shuffle around the schedule in Oklahoma City due to weather.
Bartlesville High had on day of 6A girl's state on Saturday, and will wrap up state on Tuesday in OKC, as the Bruin boys prepare for Regionals on Monday in Tulsa.
First off for the ladies, Bartlesville has had both Maddie Shelley at No. 1 singles and Erika Gruber at No. 2 singles win their first two matches, as they have cruised into the semifinals.
Shelley and Gruber have solidified top four finishes with the wins. They will try to advance further on Tuesday when state resumes. The Lady Bruin tennis team will also be crowned 6A Academic State Champions on Tuesday, with a team GPA of 4.0.
Now to the Bruin boy's tennis team, which starts Regionals on Monday. Bartlesville appears to be moving in the right direction heading into the postseason, hosted by Union. BHS will have a chance to qualify everyone for state. Head coach Bryan Reece talks about his expectations for the Bartlesville boy's tennis team today.
We will have more on Bruin tennis later on Monday for Regionals and on the Lady Bruins in state on Tuesday.
« Back to Sports