Sports » Latest News
Sports
Posted: Dec 14, 2016 12:19 PMUpdated: Dec 14, 2016 1:20 PM
BSC Tip-Off Luncheon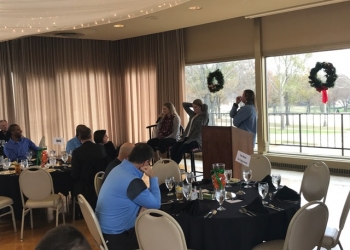 The Bartlesville Sports Comission held its annual BHS Tip-Off Luncheon on Wednesday afternoon at Hillcrest Country Club.
Both Lady Bruin head coach Krista Binam and Bruin head coach Clent Stewart spoke about the teams seasons thus far. Both clubs stand at 3-3 going into the Winter Break. They both also just completed play in a tough Bixby Tournament, going 1-2.
Binam brought sophomore Jena' Williams and junior Erin Shoemaker, who have both been instrumental starters for the Lady Bruins.
Stewart brought seniors AJ Archambo and Barron Tanner, who are the boys two leading scorers through six games.
You can read about BHS' season thus far - Along with audio from Stewart HERE.
Both Bartlesville teams resume play on Jan. 5 in tournaments.
Their full schedules can be found HERE.
« Back to Sports