Sports » Latest News
Sports
Posted: Nov 07, 2015 12:01 AMUpdated: Nov 09, 2015 9:59 AM
Bruins Win: Make History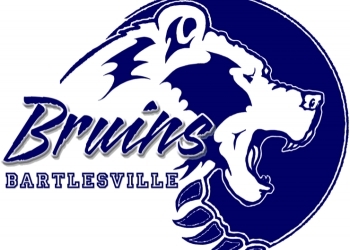 This year's BHS football squad made quite the accomplishment on Friday night at Claremore, and it had nothing to do with stats or the margin of victory.
Bartlesville beat Claremore 56-22 to finish the regular season at 9-1. No Bruin football team has finished with a 9-1 record in a 10-game season until now.
Midwest City will be Bartlesville's next opponent, in round one of the 6A-II playoffs at Custer Stadium this coming Friday night. It will be a 7:30 kickoff. Winner of the Bruins and the Bombers will face the winner of Lawton-Bixby the next Friday (Nov. 20) in round two.
BHS had already locked down a home playoff game and the no. 2 seed in the east side district before the Bruins smacked down the Zebras, although the final score was not indicative of the type of game it was.
Bartlesville trailed the Zebras 19-14 early in the second quarter before BHS outscored CHS 42-3 the rest of the way.
The win was capped off by a 1-yard TD run from senior defensive lineman Seth Hinnergardt. Hinnergardt had just completed a 70-yard interception return but fell just short of making it a pick-6. The Bruins let him finish off the drive with a touchdown run. It took Hinnergardt four tries, but on fourth down he converted to ice the victory.
A 6A-II playoff bracket will be available soon here at BartlesvilleRadio.com
« Back to Sports