Sports » Latest News
Sports
Posted: Oct 06, 2018 6:08 AMUpdated: Oct 06, 2018 7:36 AM
Bruins Pick Up 1st District Win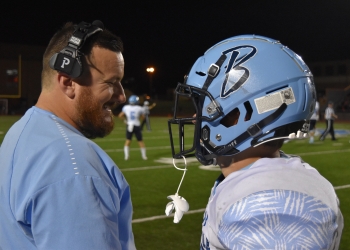 Bartlesville High finally got its first district win of the season on Friday night, but it was not easy.
The Bruins went into Sand Springs and came from behind to top the Sandites 29-27 to end a four-game losing streak, and stay very much alive in the 6A-II playoff conversation.
Trailing 27-23 with 3:29 remaining in the game, Bartlesville orchestrated a beautiful 88-yard drive over the next three minutes and 13 seconds to score the go ahead touchdown on a one-yard quarterback keeper from Ben Winters.
Bartlesville (2-4, 1-2) had picked up a game-saving fourth down and two pickup from the Sandite four-yard line a few plays earlier to keep the drive alive.
It was a gut-check for BHS, who gave up three straight Sand Springs (1-5, 0-3) touchdowns to begin the game on defense, and trailed the Sandites by 13 points two different times in the first half.
Bartlesville was without its starting running back in DeAndre Young, who missed his first contest of the season with an ankle injuring he suffered to Sapulpa last week. BHS also did not have defensive back and wide out Tom Beard in the ballgame.
After the victory, head coach Lee Blankenship talks about the win.
With the injury to Young, Laken Clowdus saw his first start of the season at running back. It was a grinding and tremendous performance. Clowdus finished with 42 carries for 213 yards unofficially.
Winters was great at the quarterback spot, going 16-22 for 222 yards and a touchdown through the air. He had two more touchdowns on the ground, including the game winner.
Things don't get much easier next, as Bruins have a tough one at Bixby this coming Friday.
« Back to Sports