Sports » Latest News
Sports
Posted: Oct 15, 2020 6:57 AMUpdated: Oct 15, 2020 7:57 AM
Bruins Host Wildcats for ConocoPhillips Bowl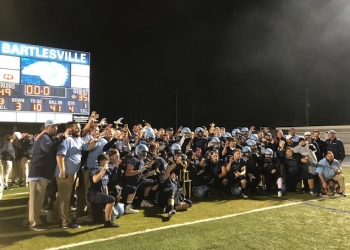 Bartlesville High football will try to make it two in a row, as the Bruins host Ponca City for the ConocoPhillips Bowl on Friday night at Custer Stadium.
Still plenty of football left in 2020, but this game could end up as an elimination contest for one of the two teams when the playoffs are decided in four weeks.
Bartlesville has owned the series over the last decade, with BHS winning 11 of its last 12 against Ponca dating back to 2008. Bartlesville High has met Ponca City in 36 of its last 38 seasons, dating back to the convergence of College and Sooner High in 1982.
Bartlesville head football coach Jason Sport talks about the matchup.
Bruin linebacker and running back Braeden Winters continues to make headlines, the senior linebacker picked up another offer from Southeastern Oklahoma State on Thursday night.
In last week's win over Muskogee, Winters' tallied 21 tackles, three sacks, two forced fumbles, two fumble recoveries and offensively had four carries for 32 yards and two touchdowns.
He was a part of a three-turnover effort for the Bruins a week ago. Sport says defensive coordinator Dan Nickles deserves credit for that side of the ball.
Bruins and Wildcats kick at 7:00 with pregame at 6:30 on Friday night on KWON – AM 1400 and FM 93.3.
You can also watch online on KWONTV.com. Senior night festivities at Custer Stadium also begin at 6:30.
« Back to Sports