Sports » Latest News
Bruins
Posted: May 10, 2019 3:20 PMUpdated: May 10, 2019 4:20 PM
Bruins Bring Home Hardware at State T & F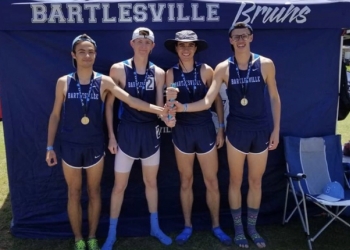 Bartlesville High athletes did quite well in the 6A State track meet on Friday at Moore High School.
The very talented 4x800m relay team of Spencer Hales, Tyler Linthacum, Caleb Eiden and James Boudreaux took home the gold medal.
Bruin freshman Ragen Hodge took third place in high jump.
More results to come.
(PHOTO COURTESY: Bruin Athletics/Facebook)
« Back to Sports