Sports » Latest News
Sports
Posted: Aug 12, 2019 7:16 AMUpdated: Aug 12, 2019 8:16 AM
Bruins Begin Practice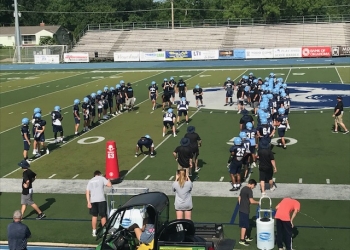 Football practice has begun across Oklahoma, and our coverage beings in Bartlesville, where the Bruins are looking to get back into the playoffs for the first time since 2015.
BHS returns more than half of their regular starters, and about 18 different players with starting experience from a season ago. Bartlesville is coming off a 4-6 season, where the Bruins barely missed out on the postseason.
Head coach Jason Sport is entering his first fall camp as a head man. He was tapped out of the Bartlesville defensive coordinator spot this past December when Lee Blankenship left for Mustang after a single season. Sport says as his first actual practice as a skipper approaches, he is going to trust his process.
Sport says he thinks that Bartlesville's wins and losses and performance on the field will be just fine if he and the program make the correct decisions, and do things the correct way.
Bartlesville will open up 2019 a week later than most, as the Bruins host Claremore on Sept. 6.
You can listen to every BHS football game on KWON – AM 1400 and FM 93.3.
« Back to Sports