Sports » Latest News
Sports
Posted: Jul 14, 2017 7:25 AMUpdated: Jul 14, 2017 8:26 AM
Bruin Quarterbacks Making Progress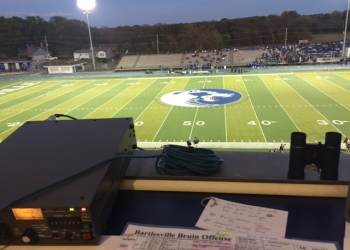 Fall sports practices can begin across the state of Oklahoma on Saturday, so the school year is nearly upon us. That means football is just around the corner. as well.
Bartlesville High is in between passing league workouts and the start of fall camp. Football practice can officially begin on August 7 in the Sooner state.
No starting quarterback has been named just yet for BHS. Sophomore Taton Hopkins and junior Noah Sunday are the leading candidates going into practices next month. Through team camp and seven-on-seven games, the two youngsters growth has been obvious. Bartlesville head football coach John McKee talks about the two QBs.
McKee mentioned the play of wide receivers John Cone, and Bradley Crawford - also running back DeAndre Young. Defensive players Cole Williams and Tom Beard all had good summers, as well.
The Bruins first game-action will be a scrimmage on August 18 at Collinsville. BHS opens up the regular season at McAlester on August 25.
We will have more on Bartlesville football as the offseason rolls on.
« Back to Sports