Sports » Latest News
Sports
Posted: Apr 16, 2019 7:09 AMUpdated: Apr 16, 2019 8:10 AM
Bruin Golf wins Sapulpa Invitational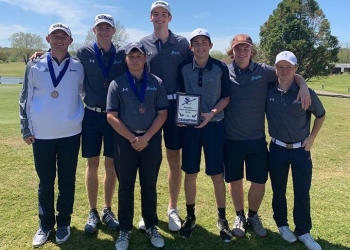 Bartlesville High golf is surging at the right time, as the Bruin boys continue to put their best foot forward at a good time of the year.
BHS took sixth at the Frontier Valley Conference tournament late last week, Bartlesville followed that up with a championship on Monday afternoon at the Sapulpa Invitational. Three Bruins shot under 85. Once again it was Carson Rainbolt who led the way with a 76.
The team score of 335 won the event.
Bartlesville continues to straddle the line of being a state tournament qualifier as a team. Head coach Jeff Rude says his club's performances down the stretch of 2019, like the tournament on Monday, should give the Bruins a shot.
In addition to Rainbolt's 76, Taton Hopkins tallied a 84, Evan Lauritsen shot an 82 and Jarod Harder had a 93.
Bartlesville still has two more tournaments before the postseason, including a home event on Mondahy next week at Adam's Golf Course.
(Photo Thanks to Bruin Athletics Facebook)
« Back to Sports