Sports » Latest News
Sports
Posted: Aug 16, 2019 7:34 AMUpdated: Aug 16, 2019 8:42 AM
Bruin Football Continues Practice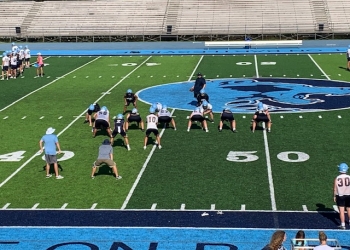 KWON had the chance to stop by Bartlesville High football practice on Thursday evening, as the Bruins hit the field until about 5:20 PM.
Upwards of 60 guys worked with the varsity group, as the team is preparing for its first day of pads on Friday– and then a scrimmage and open house on Saturday. Thus far, BHS head coach Jason Sport says he has been pleased with the effort over the past four days of work.
On Saturday evening the Bruins will hold an open house, which begins at 3:30 PM. Fans that want to help the team can bring 20 oz Gatorade bottles, water bottles, gift cards or other items that can be of use throughout the season.
The team will hold open meetings for fans to attend, and then will take the field at 5:30 for a scrimmage. Sport talks about what he is looking for on Friday and Saturday.
Coach Sport will be on hand Saturday morning for our high school football preview show – KWON's Coaches Breakfast will air on AM 1400 and FM 93.3 from 7:00-9:00 AM and will feature other teams such as Dewey, Nowata, Pawhuska, Barnsdall, Caney Valley and others.
If you miss it, we will have it posted online as well at BarltesvilleRadio.com.
« Back to Sports