Sports » Latest News
Sports
Posted: Jul 28, 2020 7:48 AMUpdated: Jul 28, 2020 8:48 AM
Bruin Fall Coaches Enter 2nd Season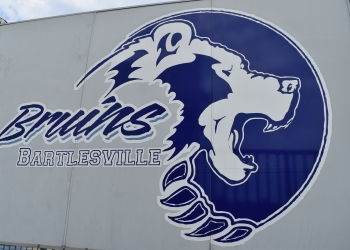 Fall sports practices continue at Bartlesville High, as volleyball, softball and cross country have been working for nearly two weeks now.
Both the BHS softball and volleyball coaches are into their sophomore campaigns, as Kyle Minton with softball and Jenn Ward with volleyball have one year of varsity experience under their belt from a year ago.
Both expressed relief that their first season was in the books, and they felt better prepared for season No. 2.
For Ward and Lady Bruin volleyball, she says understanding how to spend her time will be a benefit this fall.
Neither sport had much of an offseason because of concerns due to COVID-19, however both held tryouts and then scrimmages after their first week or two of practice.
More on all those fall sports throughout the coming days.
« Back to Sports