Sports » Latest News
Sports
Posted: Apr 16, 2019 7:05 AMUpdated: Apr 16, 2019 8:05 AM
Bruin Baseball Working on Timely Hitting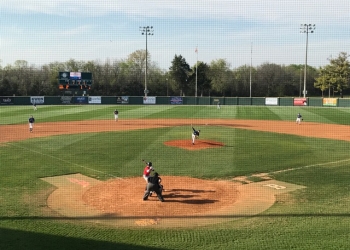 Bartlesville High baseball starts an important week on Tuesday, as the Bruins have a chance to tune up before their final district series of the season next week.
Bartlesville has three non-district games this week. The Bruins begin with a makeup game at 3A Meeker on Tuesday evening at 6:00 PM. BHS also plays Ponca City on Thursday and Skiatook on Friday. All games are on the road.
Bartlesville has been a mixed back ever since its 10-game win streak was snapped earlier this month, the Bruins are 2-6 in their last eight.
Timely and situational hitting continue to be a major emphasis, as it feels as if Bartlesville has outplayed many of its opponents in its 13 losses this year. Here is head coach Austin Jarvis.
The proof of what Jarvis mentions is in the numbers. As a team Bartlesville is batting .292 this season, but that number drops to .256 when runners are in scoring position this season.
On top of working on situational hitting, Jarvis said Bartlesville will continue to try to build pitching depth this week prior to Regionals the first week of May.
« Back to Sports