Sports » Latest News
Sports
Posted: May 02, 2019 5:10 AMUpdated: May 02, 2019 6:10 AM
Bruin Baseball Begins Regionals on Thursday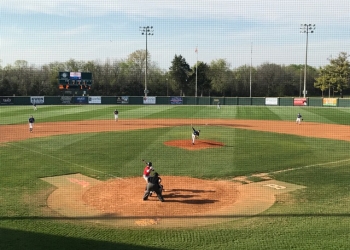 Bartlesville High baseball is back in action on Thursday after a couple days off, and the Bruins are playing for their season, as BHS makes a trip to the south of Tulsa to play in the Jenks Regional.
Bartlesville has a first-round matchup with the host-Trojans at 11:00 AM. The tournament is a double-elimination four-team event. Winner goes to 6A State.
BHS has been pretty up and down over the past two or three weeks, with head coach Austin Jarvis tinkering with lineups and pitchers, trying to find the right combination before the postseason.
Bartlesville is 7-5 since losing its Stillwater series back on April 11. The Bruins do have some momentum on the offensive side of the baseball. Bartlesville has increased its team batting average to .305 – up almost 15 points over the last couple weeks. Jarvis says the numbers could have been even better.
If Bartlesville can beat Jenks on Thursday morning – it would play the winner of Bixby and Southmoore at 4:00 PM (Aired on Sports Talk KPGM). If it happens to lose to the Trojans, Bartlesville would play the loser of the Bixby-Southmoore contest at 6:30 PM (Aired on KWON - AM 1400 and FM 93.3.).
We will have the Jenks-Bartlesville game at 11:00 AM on Thursday for you on Sports Talk 1500 AM and 99.1 FM – KPGM. Pregame beginning around 10:50 AM.
All games in the Regional on Thursday and Friday that begin before 5:00 PM will air on KPGM - games that start after 5:00 PM will air on KWON - AM 1400 and FM 93.3.
« Back to Sports