Sports » Latest News
Sports
Posted: Jul 27, 2020 7:21 AMUpdated: Jul 27, 2020 8:21 AM
Bartlesville Softball Holds First Scrimmage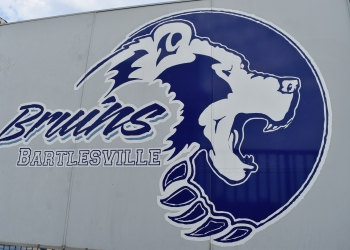 Bartlesville High softball had its first scrimmage of the season over the weekend, and the Lady Bruins did some good things.
This was the second Bartlesville High varsity squad to play some outside competition since fall sports practices began back on July 15.
Both softball and volleyball have now been after it for nearly two weeks, and are two weeks away from the first official competition of 2020, with games kicking off on Aug. 11.
For softball, BHS will rely on two big-time returners, who are both infielders and pitchers.
Kyle Minton is into his second year as head coach, and he talks about Sydney Price and Logan Cates.
The vast majority of Bartlesville's contributors are back from a nine-win team a year ago.
The Lady Bruin's first contest will be at Enid on Aug. 11. The Bartlesville home opener will be on Aug. 13.
« Back to Sports