Sports » Latest News
Sports
Posted: Nov 21, 2020 8:36 AMUpdated: Nov 21, 2020 9:36 AM
Barnsdall Bounced by Regent Prep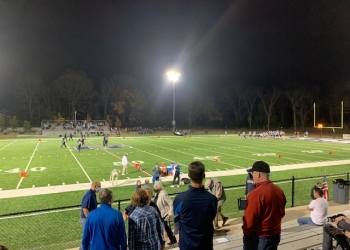 Barnsdall dropped its first game in the 2020 postseason. The Panthers lost in round two of the Class B playoffs to Regent Prep.
The game was pretty much all Rams from the start, Regent won 67-16 after two quarters of play.
Barnsdall had advanced to the second round after a forfiet win over Prue last week.
Barnsdall stopped Regent on its first possession of the game after getting several negative plays. The Rams would turn the ball over on downs – but then they would score touchdowns on their next nine possessions to run away with the contest.
The two scores for the Panthers game on a Josh Weber reception and this kick return from Brock Eckert.
Barnsdall finishes the year at 7-4.
« Back to Sports