Sports » Latest News
Sports
Posted: May 14, 2019 10:54 AMUpdated: May 14, 2019 6:09 PM
Austin Jarvis Resigns as BHS Baseball Coach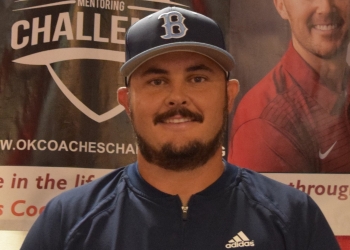 Bartlesville High head baseball coach Austin Jarvis has resigned his position after just one year with the program.
That news broke on Tuesday morning. Jarvis came to BHS in the summer of 2018 after another one-year stint at 4A Ada High School. He was previously at Victory Christian for three seasons.
He guided the Bruins to a 19-18 record in 2019. Bartlesville fell in the Jenks Regional to Bixby to end its season back on May 4.
Just last week, Jarvis spoke with KWON Sports about his first season in Bartlesville.
Jarvis was the last varsity coaching hire from former Bartlesville High Athletic Director Ryan Huff, who tapped Jarvis to replace then head coach Spence Rigdon, who had moved on to become the Collinsville Athletic Director.
Rigdon returned to Bartlesville to replace Huff this past summer, and will now be tasked with finding Jarvis' replacement.
----------------------
BHS also announced the resignation of boys' soccer Vladen Glavonic after two seasons. Glavonic also serves as the Oklahoma Wesleyan girls soccer coach.
(Photo Cred - Twitter)
« Back to Sports