News
Washington County
Posted: Sep 27, 2021 10:28 AMUpdated: Sep 27, 2021 5:43 PM
US-75 Opens at 2400 Road, at Least Three Injured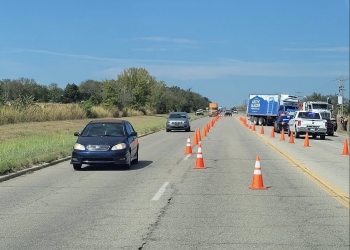 Garrett Giles
A collision between a tandem box delivery truck and a pick up caused quite the congestion along US-75 northbound at County Road 2400 on Monday.
Washington County Emergency Management Director Kary Cox believes three victims were transported to the hospital to be treated for injuries. Cox says Oklahoma Highway Patrol was on scene to investigate the crash and will release that information at a later time. He says the cause of the wreck is unknown.
The accident occurred south of 2300 Road and north of Moose Lodge Road. Cox says the box truck was loaded with cargo so it took some time to get the scene cleared.
According to Oklahoma Highway Patrol, US-75 was congested for over seven hours.
We will have more information when it becomes available.
Photo courtesy: WCEM
« Back to News