News
Washington County
Posted: Dec 01, 2020 2:13 PMUpdated: Dec 02, 2020 6:54 AM
Bouvier Looks to Preserve History in County Cemeteries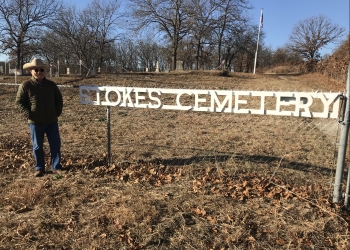 Garrett Giles
A Washington County man has his heart set on preserving the rich history and the stories of the County's cemeteries.
Mike Bouvier of Bartlesville, and an elected member of the Board of Washington County Commissioners, has been working hard to improve and maintain Washington County's historic cemetery's like the Stokes Cemetery (pictured) near Bar-Dew Lake northwest of Dewey. Bouvier said the work is a "labor of love." He said what he does is not even work because it is something he likes to do.
By revitalizing these cemeteries, it is Bouvier's hope that future generations come to realize the great history of Washington County. Bouvier said he took up this work a couple years ago at the Tyner Cemetery neary Oglesby. He said he was asked to help mow the lawns and clean up the cemetery.
At the Tyner Cemetery, Bouvier realized some of the headstones were broken, so he did what he could to put them back together. While fixing the stones, Bouvier found a serenity, a peace in the remote location of Tyner Cemetery at County Roads 3000 and 4020. He said it gave him a sense of perspective as he realized every name on the stones were a life lived; he wanted to do more to honor their lives and get people to be interested in their stories.
When Bouvier got around to working on the Stokes Cemetery, the grass was overgrown. Bouvier said a woman that lived near the cemetery called him and said it was ashame to see the cemetery going to waste like it had been. He said the grass was so tall that you couldn't even see the top of the fence.
Bouvier hired a man to come and mow at the Stokes Cemetery. Bouvier said large and small tractors were used to cut down the grass. He said they removed brush so they could see the headstones in the cemetery.
Once they could finally see the gravestones, they realized some of the stones were broken, in disrepair or leaning. Bouvier said he got his Washington County crew to come out to the cemetery to lift the stones back onto their pedestals. He said they repaired the cracked stones that had broken in half.
An American flag now waves in the wind at the Stokes Cemetery. Bouvier and his crew added a solar powered light at the top of the flag pole so the flag can be seen at night. Bouvier said they'll look at putting a gravel road down that travels around the compound. He said that will allow people to get out, park, and see their ancestors and others that made a historical impact in northeast Oklahoma.
The first ever teacher in Washington County - Mrs. Seidel - is buried in the Stokes Cemetery. Bouvier said most people probably don't even know that to be true. He said it is his wish and dream is to bring back the life and history the people in Washington County's cemeteries brought to Oklahoma and Washington County itself.
Bouvier said he has also shown interest in maybe getting people that are in rehab centers or mental health centers to work in the cemeteries. He thinks it would do them some good to work in these remote cemeteries because they're so quiet and would give the individual a moment of solitude in nature while doing something productive.
Getting the Boy Scouts to come out and help clean up the cemeteries as a project has crossed Bouvier's mind as well. Eventually, Bouvier said he would like to create a directory to give people an idea of where people are buried in the Stokes Cemetery and other cemeteries across Washington County.
The Washington County Historical Society (WCHS) has encouraged Bouvier during this journey to preserve history locally. Bouvier said it is amazing what the WCHS has accomplished and he loves how much information they've been able to gather over the years. He said he never wants that information to be lost because future generations need to know the who's, the what's and the how's that made Washington County and northeast Oklahoma what it is today.
« Back to News