News
Local News
Posted: Nov 11, 2020 8:22 AMUpdated: Nov 11, 2020 10:03 AM
Veterans Day Program Held at Wesleyan Christian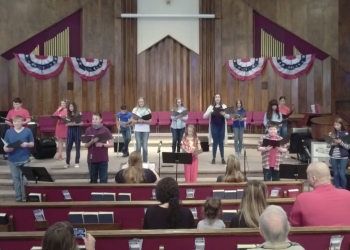 Garrett Giles
Wesleyan Christian School held is annual Veterans Day Program in the First Wesleyan Church Sanctuary on Wednesday morning.
The program started at 8:30 a.m. and lasted approximately 40 minutes. Students from each grade level sang songs and thanked veterans in attendance - both in person and online - for their service to protect America and its people.
Students from the high school said Veterans Day, the eleventh day of the eleventh month of the eleventh hour, comes down to saying thank you to the men and women that have served this great nation. They thanked the veterans of the past and the veterans of the present. Because of those who serve, the students said they will always remember to say, "Thank you."
Middle and high school students would go on to sing the Armed Forces Medley. Members of each military branch were encouraged to stand when their branch's song was sung. One by one, military veterans stood and were greeted with thunderous applause.
Wesleyan Christian Schools' Veterans Day Program also took time to honor prisoners of war (POWs) and those missing in action (MIA).
To watch the Veterans Day Program put on by Wesleyan Christian Schools, click here.
« Back to News