News
Government
Posted: Sep 09, 2020 10:25 AMUpdated: Sep 09, 2020 10:35 AM
Inhofe Launches First Ad of General Election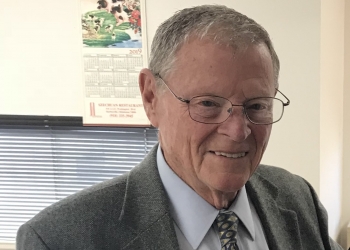 Garrett Giles
U.S. Senator for Oklahoma Jim Inhofe released his first ad of the general election cycle on Wednesday.
The statewide media buy features a 60-second spot titled "Soul," which will appear in broadcast and cable markets across Oklahoma.
The ad highlights Oklahoma and Jim Inhofe – an Army veteran who rose to become chairman of the Senate Armed Services Committee – who stands with America.
Below is the transcript from the advertisement and the video released on Wednesday.
"The race for Senate isn't so much about individuals, it's about the soul of our nation. Our way of life in Oklahoma."
"While parts of the country burn, Oklahomans pray."
"Others shout to defund the police, Oklahomans treasure law enforcement."
"Some burn our flag; Oklahomans cry for those who died for it."
"And, some want big brother to grow bigger, tax us till we break, command us how to live. Those people are called socialists, liberals, progressives."
"They are not called Oklahomans."
"Jim Inhofe is an Oklahoman. He's a patriot, served in the United States Army. Serving us is Jim's life."
"Keeping wolves far from Oklahoma's borders."
"Oklahomans choose freedom. Choose strength. Life. A precious nation we must protect. Oklahomans choose Jim Inhofe."
"I'm Jim Inhofe and I approve this message."
« Back to News