News
Sports
Posted: Jul 13, 2020 8:32 AMUpdated: Jul 14, 2020 10:33 AM
Longtime Barnsdall Coach Joe Gilbert Passes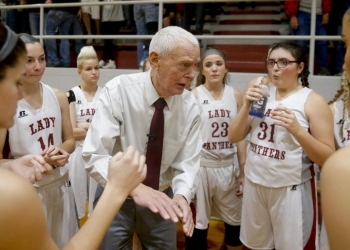 Evan Fahrbach and Ty Loftis
A local high school coaching legend passed away early Monday morning.
Longtime Barnsdall coach Joe Gilbert has died.
Gilbert had been a coach at Barnsdall High School for the past 66 years. The Panthers had a night honoring him, still coaching at the age of 87, back in Feburary.
Gilbert was the current coach of Barnsdall girl's basketball, but also served as the football, baseball, softball and boys basketball coach at one time or another. Reports indicate that he amassed 3,912 wins during his time at Barnsdall. Gilbert was inducted into the National High School Hall of Fame in 2019 and had this to say on the recognition.
Gilbert took the job at Barnsdall in 1954 and while he had chances to leave, it was the tight-knit community that kept him from going elsewhere.
Gilbert is one of nine Oklahoman's in the National High School Hall of Fame, joining the likes of Johnny Bench, JC Watts and John Smith.
(Photo courtesy of OSSAA)
« Back to News