News
Bartlesville Public Schools
Posted: Jan 08, 2020 1:15 PMUpdated: Jan 08, 2020 1:18 PM
McCauley: State Should Invest in More Class Resources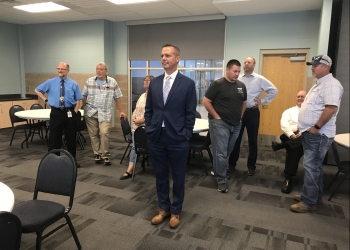 Garrett Giles
A new semester started for Bartlesville Public Schools on Monday, and everyone is getting settled into their desks, classrooms and offices.
Bartlesville Superintendent Chuck McCauley is looking forward to a great 2020. He said there are still needs that schools across the State of Oklahoma have, but he is pleased with how issues surrounding education are being addressed.
There is finally a competitive teacher salary for teachers in Oklahoma. In the 2019 legislative session, the State of Oklahoma approved a $1,220 increase in teacher pay. This helps battle the teacher shortage that is seen throughout the Sooner State.
During the State of the Schools Luncheon put on by the Bartlesville Public Schools Foundation in August 2019, Superintendent McCauley addressed a sizeable crowd in the Bartlesville High School Commons Area.
Then, he said the average teacher pay in the last 2 years has increased from $7,000 to $10,000. Support staff pay has also increased from $1,800 to $2,600.
The 2019 State Budget appropriated an additional $74.3 million to public school classrooms that schools can use as they see fit. Superintendent McCauley said he believes the state still needs to continue to get resources into the classroom.
The challenge that is present is per pupil expenditure, which is how much money comes to the students from the state. Oklahoma remains dead last among the othe 49 states.
To Superintendent McCauley, this is where there is a direct impact on students within a school district in terms of class sizes, course offerings, and curriculum. He said he hopes the state will be able to put more money into the state funding formula so that more money can get into classrooms.
The Second Regular Session of the 57th Legislature will convene on Monday, Feb. 3rd, 2020.
Pictured is Superintendent McCauley last summer waiting for the result of the 2019 Bond Issue.
« Back to News