News
Dewey Football
Posted: Oct 09, 2019 3:08 PMUpdated: Oct 09, 2019 3:08 PM
Carner Named State POTW; Doggers Face Beggs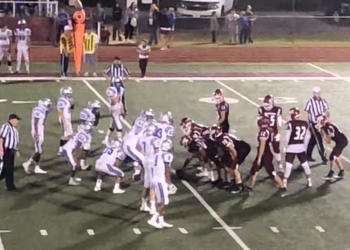 Max Gross
It's official! Dewey quarterback Kale Carner has been named the Tulsa World Readers' Choice Player of the Week for his performance in the Doggers 62-45 victory last Friday. Carner received the most votes out of the players nominated which included Pawhuska quarterback Bryce Drummond. Carner was honored as homecoming king while tallying eight touchdowns and 450 yards of offense. Dewey head coach Trent Turner says this was the best game of Carner' career.
Now the Doggers focus switches to this week's game against Beggs, a consensus top-10 team and potential district champion. The Demons finished as the state runner-up in 2A in 2018. Turner says Dewey is a bit beat up going into this matchup with a tough opponent.
The Doggers are one of the hottest teams in the area right now having won four straight games since losing their opener. Dewey is 2-0 district. The Doggers head to Beggs for a 7 p.m. kickoff this Friday. No radio for Dewey this week.
« Back to News