News
Bartlesville
Posted: Aug 16, 2019 9:41 AMUpdated: Aug 16, 2019 9:47 AM
ConocoPhillips CEO, Chairman to Speak at Forum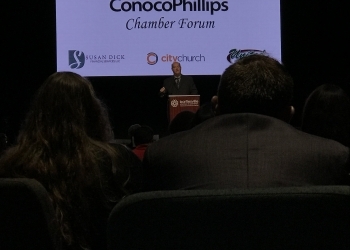 Garrett Giles
The Bartlesville Chamber of Commerce's Forum Series continues next month and ConocoPhillips will be the center of attention.
ConocoPhillips Chairman and CEO Ryan Lance will be giving an update on the company at the Chamber's brunch.
Lance told KWON last year after the Forum address that Bartlesville remains part of the company's backbone and always want to do what ConocoPhillips wants to do with its business worldwide. Being part of ConocoPhillip's backbone, Lance said that Bartlesville employees set an example for IT and financial support for the world.
This year's event will take place on Thursday, Sept. 12th at City Church which is located at 4222 Rice Creek Road in Bartlesville. Everything gets underway at 10:00 a.m. and will last until 11:30 a.m.
Tickets cost $25 per person to attend the Forum. This includes lunch. It costs $275 for a table of 8, which includes reserved seating. To register, call 918.336.8708.
(Pictured: Lance at last years Forum event at City Church)
« Back to News