News
Oklahoma Union Football
Posted: Aug 13, 2019 3:30 PMUpdated: Aug 13, 2019 4:22 PM
Cougars Installing Offensive Schemes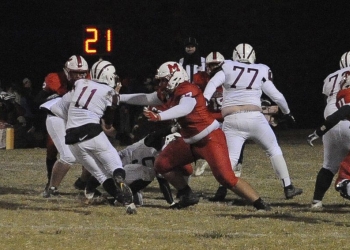 Max Gross
The first week of high school football practice is up and running across Northeast Oklahoma. Over in the greater Nowata County area the Cougars are trying to build off last year's success after making a playoff appearance. Stephen Trammell is back at the helm for his second year as Oklahoma Union's head coach. Trammell says the team is starting off with concept work in the early days off practice.
Last year, it was a switch to the spread offense that led the Cougars to a 5-1 finish to earn a playoff spot in Class A district 6. Trammell says he doesn't envision any major changes to the offense this season.
After some deliberation Trammell has decided to go with Mason Seigel again at quarterback. Seigel switched from tailback midway through 2018 after the offensive scheme change. That will give either Jace Gillmore or Mason Pittman the bulk of the carries out of the backfield.
You can hear more from coach Trammell and several other area coach's during KWON's coach's breakfast on Saturday morning from 7-9 a.m. at the The Great American Grill inside the Hilton Garden Inn.
« Back to News