News
Washington County
Posted: Jul 22, 2019 12:12 PMUpdated: Jul 22, 2019 12:18 PM
Proposed Oil and Gas Contract Approved Monday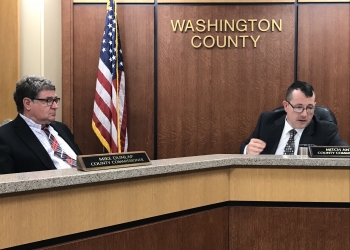 Garrett Giles
The Washington County Assessor's Office and the Total Assessment Solutions Corporation had a proposed contract approved on Monday.
County Assessor Todd Mathes explained the contract and that they have contracted with TASC for the last four to five years for oil and gas discovery and valuation. He said they have saved the County a lot of money and they have found a lot of undiscovered oil leases.
For the first couple years, the contract just went through the Assessor's Office. TASC thought that the contract should go through a Washington County Commissioners' meeting instead, because the contract should have the Commissioners signatures on the contract.
The Washington County Commissioners approved the contract. Assessor Mathes said this is different from the Visual Inspection Contract. He said they are going on for bid on that contract sometime this year.
« Back to News