News
City of Dewey
Posted: Jul 22, 2019 10:50 AMUpdated: Jul 22, 2019 10:52 AM
Dewey Police Win Boots and Badges Blood Drive Trophy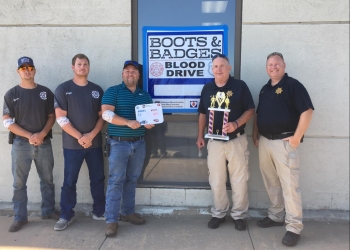 Garrett Giles
The fifth Boots and Badges Blood Drive at the gymnasium at Dewey High School was a success!
The Oklahoma Blood Institute collected 80 blood donations last Thursday. 240 local lives will be impacted by the donations.
Susan Addison, an Account Consultant with the Oklahoma Blood Institute, said blood drives are important. She said 1 in 7 hospital patients will need a blood transfusion during the course of their care and they want to make sure that they are helping car accident patients, cancer patients, and heart attack victims.
There was also a fun competition between the Dewey Fire Department and the Police Department, who hosted the Boots and Badges Blood Drive.
Every time someone made a donation, they chose a side they wanted to represent. The Dewey Police Department beat Dewey Fire on a score of 58 Badges to 44 Boots. Chief Mike Shea held the trophy high once the results were in.
« Back to News