News
Bartlesville Public Schools
Posted: May 13, 2019 9:15 AMUpdated: May 13, 2019 5:18 PM
Gun Found in Madison Middle School Bathroom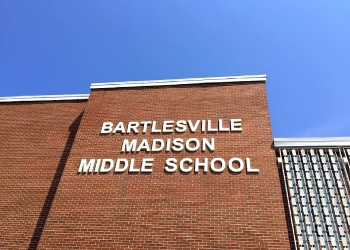 Garrett Giles
A concerned parent alerted staff at Madison Middle School in Bartlesville of a missing gun at home that a student might have taken to school Monday morning.
Granger Meador, the Executive Director of Communications for Bartlesville Public Schools said the incident took place as soon as school started. The Bartlesville Police Department stated that a Student Resource Officer responded to the call at 9:26 a.m.
Meador said they are grateful for the parents that alerted BPS as soon as they discovered the missing gun from home.
This is a perfect example, Meador said, of BPS's on-going goal to minimize distractions during the school day while keeping everyone as safe as possible.
Madison staff located the student, searched the student's backpack, and then retraced the student's steps at school since arriving on campus. The weapon was found in a restroom. It was hidden above a ceiling tile.
Police were on site, along with the parents and student. Reports indicate the situation is secure and students and staff are safe.
Bartlesville Police Captain Rocky Bevard said there was never any real threat made toward the school or anyone on the premises. The student, a 14-year-old, expressed no intent to harm anyone. That student told police that he thought it would be "cool" to bring a stolen gun to school.
The investigation revealed that the student had take the gun from a relative and brought the gun to school. Police said the student was confronted by another relative who subsequently ran into the bathroom where school administrator found the firearm.
In a statement given by Bartlesville Public Schools Monday morning:
"School safety is a top district concern, and we appreciate the cooperation of parents, students, staff, and the Bartlesville Police Department in helping us keep our schools a safe learning environment."
Meador said the community needs to continue to be open and communicative to keep everyone safe in and out of school.
In the past, Meador said students and/or parents have alerted BPS about situations like this happening in the past. He said that is the number one defense so they can follow-up with the information and ensure student safety.
Each incident handled with clear communication, he said, has been taken care of quickly and efficiently.
« Back to News