News
Bartlesville
Posted: May 13, 2019 6:47 AMUpdated: May 13, 2019 6:55 AM
United Way Looking Ahead at Change for 2019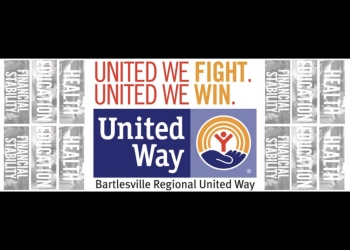 Garrett Giles
Bartlesville Regional United Way announced last week that they reached their 2018 goal to raise $2.3 million for their 13 partner agencies.
President and CEO Lisa Cary said those 13 partner agencies are do a huge part of the work in making the communities in Nowata, Osage and Washington Counties stronger. Those agencies, she said, do a terrific job of changing the health, education and financial stability for the better.
Cary is thrilled to offer the proper funds to those groups they support. She added that they are looking ahead though to their 2019 campaign and how they can improve their outreach efforts.
Part of that change is their social media outreach. Cary said they want to tell more stories through their Facebook page and more as they move forward in 2019.
Telling their stories is what Cary believes will make a huge impact on people who are on the fence with giving. Seeing what the partner agencies is seeing the money people give at work.
She said they want to build off of what they had last year. United Way also hopes to reach the demographics they have not been able to reach in the past.
« Back to News