News
City of Nowata
Posted: May 13, 2019 3:25 AMUpdated: May 13, 2019 3:35 AM
Fallen K9 Remembered at the Nation's Capitol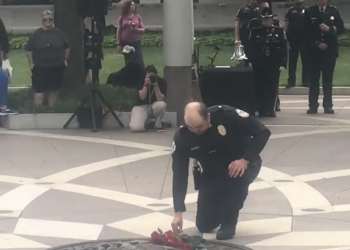 Garrett Giles
The Nowata Police Department remembered a fallen K9 at the National Law Enforcement Memorial in Washington D.C. over the weekend.
K9 officer Smokey died in the line of duty last year. Charges of killing a police dog and public intoxication were filed against 38-year-old Shoshone Hicks of Nowata as a result of the K9's death.
Hicks appeared in court Tuesday, September 11th in front of Judge Carl Gibson. On August 29, Hicks was stopped by a Nowata Police officer on Highway 169 with another individual. They asked the officer if he had his dog with him and if they could have a ride.
Officers believed that Hicks was under the influence of something. According to reports, she then opened the door of the vehicle, when K9 officer Smokey jumped out of the car and ran across the highway, but when he heard his handler call, he turned and ran back across the highway and was struck by a semi. The K9 did not survive the impact.
A memorial service was held earlier last September to mourn the loss of Smokey. All together, 36 K9s lost their lives in the line of duty in 2018.
Hicks is being held on a $50,000 bond. She could face up to five years in prison.
« Back to News