News
Bruins
Posted: Apr 19, 2019 3:15 PMUpdated: Apr 19, 2019 3:28 PM
Bruins Lose Shootout in Skiatook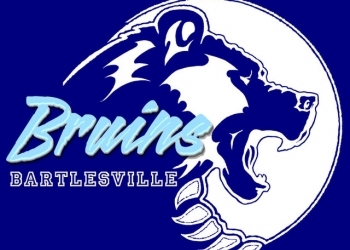 Max Gross
Bartlesville baseball's brief two-game winning streak has come to an end after a 14-11 loss at Skiatook on Friday afternoon. Noah Yearout's five hits led the Bruins offensive charge, but ultimately it wasn't enough to overcome the Bulldogs.
The Bruins scored one run in the top of the first before giving up a six-spot. Bartlesville would get it all back in the second inning as they scored five runs to knot the game back up at six. Yearout capped the inning with a two-RBI single.
In the third inning Bartlesville would jump ahead after a run scored on a wild pitch. Then Yearout would continue his incredible day with a two-run home run, his first of the season. Bartlesville led the game 11-7 after three frames but the bats wouldn't score again.
The Bruins pitching staff would surrender six runs in the fourth inning and Skiatook would take the lead for good.
The Bruins finish the week of non-district games at 2-1. Bartlesville returns home for two home games against Shawnee and Muskogee to wrap up the regular season.
« Back to News