News
Bartlesville Public Schools
Posted: Mar 15, 2019 8:01 AMUpdated: Mar 15, 2019 8:05 AM
Future Bond Issues Aimed at Aiding STEM Programs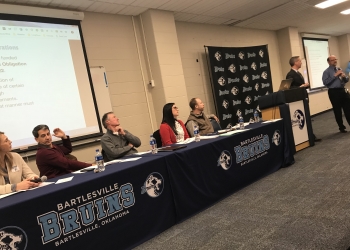 Garrett Giles
Bartlesville High School, Central Middle School and Madison Middle have been named Distinguished Schools because of their STEM Programs. BHS is the only comprehensive high school in Oklahoma to be named a Project Lead the Way Distinguished High School. The middle schools have earned the distinction for the second consecutive year.
Superintendent Chuck McCauley said this is a high achievement for all their schools and they look to expand this further in the district's six elementary schools. He said ABB in Bartlesville is recently announced that they will help BPS this year. He said they have received help from Conoco Phillips, Truity Credit Union, Arvest Bank and numerous individuals also.
McCauley said there is no CareerTech or Federal Funding for Project Lead the Way programs below the 8th grade. He said The Bartlesville Public School Foundation has neared their $100,000 goal to help with the PLTW modules in the elementary schools as well.
BPS hopes future bond funds will help with this type of funding in the future. McCauley said the plan is to have future bonds fund the PLTW STEM programs so they do not have to ask The Bartlesville Public Schools Foundation to raise community funds to give the opportunity to students.
McCauley said the Bartlesville School Board wants to vote on the bond issue in May. That will put the bond before the general public in August. A special board meeting will take place on Wednesday, March 27th at Bartlesville High School that will discuss the bond further. There will be another special meeting on April 24th.
« Back to News