News
Local News
Posted: Feb 13, 2019 9:27 AMUpdated: Feb 13, 2019 9:27 AM
Transportation Committee Hears from Cimmaron Transit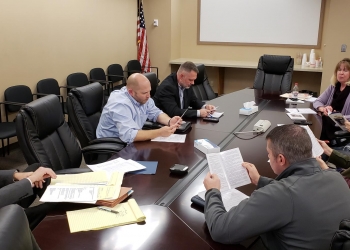 Charlie Taraboletti
Bartlesville's Transportation Committee held its first meeting Tuesday afternoon. The committee chose Alan Gentges as its chairman. The committee heard from Cimmaron Public Transit System's Laura Corff. Cimmaron operates the local CityRide program. Corff says
the average trip
for CityRide is just more than 7 miles.
Corff says Cimmaron tried a Ride to Work program at a reduced fare in the fall. She says more than 3 thousand people got a
ride to work
under the program.
It was mentioned that there is a segment of the population for whom any amount more than that 1-dollar to work fare is not economically feasible because they earn a very low hourly rate. Also people need a ride at all hours because of their work schedule and CityRide generally operates on a 7 to 5 schedule.
This is CityRide's 14th year of operation in Bartlesville. The city helps fund the program by paying 45 thousand dollars a year to the program Cimmaron uses the funds to leverage the rest of its costs through Federal and state dollars and money from the Cherokee Nation.
The program takes people to dialysis on a daily schedule and others need a ride for shopping or other appointments. Corff says employers can buy a punch card that would help riders who work for them to buy down the price of a 3-dollar ride to something that they can afford.
The committee will meet again on the second Tuesday in March.
« Back to News