News
Sports
Posted: Dec 20, 2018 8:23 AMUpdated: Dec 21, 2018 3:35 AM
Sport Promoted to new Bruin Football Coach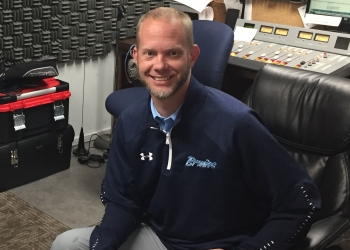 Evan Fahrbach
Bartlesville High School has selected a new head football coach.
Jason Sport will be promoted from within the staff to become the ninth head coach in Bruin football history.
Sport served as Bartlesville's defensive coordinator this past season under former head coach Lee Blankenship. He followed Blankenship to Bartlesville from Jenks in 2018.
Bruin Athletic Director Spence Rigdon talks about the hire
Sport, is 39 years old and an Alabama native. He received his bachelor's degree from Northeastern State University in Tahlequah, OK. He and his wife, Ruth, have four children.
Sport talks about taking the position
Sport served as the Defensive Coordinator at Sapulpa High School for seven seasons from 2003 to 2009, so he was part of one of the biggest upsets in Oklahoma playoff history when the Sapulpa team knocked off number one ranked Jenks in the first round in 2005.
Sport says the Bartlesville program never lost its team, and the Bruin boys are ready for 2019.
Sport coached quarterbacks and defensive backs in the 2010 and 2011 seasons at Greenwood High School in Arkansas, where he was tutored under Hall of Fame Coach Rick Jones. Those teams were both Arkansas Class 6A state champions, setting an Arkansas state record with 50 wins in a row.
Sport also served four seasons, from 2012 to 2015, as Special Teams Coordinator and Defensive Line coach at Lincoln Christian School in Tulsa, OK. The Bulldogs finished as Oklahoma Class 3A State runner-up once and appeared twice in the quarterfinals.
Sport Talks about the community of Bartlesville
Jason Sport has just finished his first season as the Defensive Coordinator at Bartlesville High School. He has 16 years of high school football coaching experience with the previous two seasons, 2016 and 2017, at Jenks High School under Hall of Fame Coach Allan Trimble. He served as the Special Teams Coordinator and Defensive Backs coach and helped lead the Trojans to the Oklahoma Class 6A-1 State semifinals in both years.
« Back to News