News
Sports
Posted: Dec 15, 2018 5:32 AMUpdated: Dec 15, 2018 5:32 AM
Bruins Sweep Bixby on Throwback Night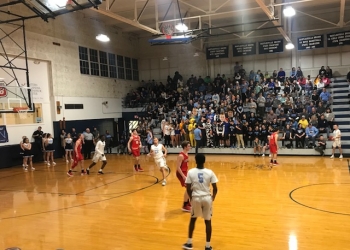 Evan Fahrbach
It was a sweep for the good guys on Friday night at the Phillips Gymnasium, as both the Bartlesville boys and girls basketball teams beat Bixby on Throwback Night to enter winter break on a high note.
On the girl's side first, Elise Cone was the hero, as the junior knocked down two huge three-pointers in the final 1:30 to give the Lady Bruins a 43-42 win. Trailing by two, Cone hit this three pointer from the left corner that would be the eventual game winner.
Bartlesville was down as many as five down the stretch. The Lady Bruins trailed by eight in the early going as well, but always battled back. The win over Bixby was a good one, the Spartans are ranked at No. 13 in the state and suffered just their second loss of the season. Bartlesville is now 4-2 entering the holiday.
On the boy's side, Bartlesville never trailed, but that doesn't mean it was easy. BHS would end up winning 44-31 in a low scoring affair.
The Bruins exploded to a 16-2 lead behind 16-straight points from Tayo Dina to begin the ballgame. Bixby would battle back to get within six at halftime. The Spartans would get as close as one in the second half. This Dina three-pointer was the peak of the Bruins great start midway through the first quarter.
The Bruin guys improve to 3-3 before the holiday. The Bartlesville boys won't play again until Jan. 7 at Jenks in a makeup game.
The Lady Bruins have a tournament between Christmas and New Years in Orlando, Florida.
« Back to News