News
Washington County Commissioners
Posted: Nov 09, 2018 1:09 PMUpdated: Nov 09, 2018 1:15 PM
Commissioner Antle Goes to Tulsa for Tax Code Conference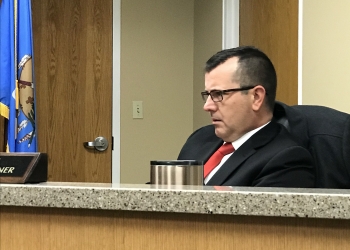 Garrett Giles
The Oklahoma Academy invites a recently re-elected Washington County Commissioner to its 2018 Town Hall Conference Retreat.
The Oklahoma Academy has extended invitations to approximately 125 Oklahomans from different demographics and has selected Washington County Commissioner Mitch Antle. Commissioner Antle says anything tax related is about equity, adequacy, simplicity, transparency and the administrative ease of tax burdens.
According to Antle, Oklahoma's tax code isn't aligned with the 21st century economy we see. Internet sales, Antle says, is something the state needs to capture more of.
Antle says Oklahoma is the ninth highest state in the nation when it comes to regressive policy. Equity is high in Oklahoma based on income levels so the poorer class is paying more than their burden, Antles says.
As for other issues, Antle says making Oklahoma tax friendly for those retiring. The retired are more likely to utilize medical facilities than Oklahoma's youth and that income will benefit everyone, Antle says.
He believes the state legislature is aware that the tax code needs revamped and that they will take on this issue heavily this year.
The Oklahoma Academy's 2018 Town Hall Conference Retreat will be held on Sunday, Nov. 11 and will continue through the 14th at the River Spirit Conference Center in Tulsa.
« Back to News