News
City of Bartlesville
Posted: Oct 11, 2018 1:16 PMUpdated: Oct 11, 2018 1:46 PM
Beautification Project Stems from City Partnership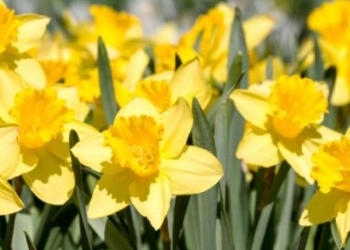 Garrett Giles
The Play for Burk Foundation plans on planting 10,000 daffodil bulbs on pre-approved locations around Bartlesville Saturday – including churches, schools and City of Bartlesville-owned landscapes — where the flowers can bloom for all to see. The event, "Daffin' the 'Ville," will help raise money for local recreation endeavors.
The City of Bartlesville's Chief Communications Officer Kelli Williams says the city has partnered with the Play for Burk Foundation in the past and loved what they did for the community. With the Lee Lake project, Williams says they were a great help to the city because they helped plant trees and install benches.
Play for Burk Foundation volunteers and various local groups will plant the bulbs beginning at 9 a.m. A tent will be up from 9 a.m. until noon at Madison Middle School, where citizens can buy bulbs to plant at their homes for $2 each.
According to the Play for Burk Foundations website, proceeds from bulbs and donations will go to help local youth by providing funding for scholarships, an annual leadership conference, equipment for schools, community improvements and to organizations that support youth.
The Play for Burk Foundation is a non-profit group dedicated to serving the youth in the community by providing recreational funds generated from fundraisers. It is named for Burk Hansen, who tragically passed away following an ATV accident in 2015 at the age of 13.
For more information about the Play for Burk Foundation and how to donate to Daffin' the 'Ville, visit the Play for Burk Foundation's website at www.playforburk.org or email Chris Hansen at playforburk@gmail.com.
(Photo credit: City of Bartlesville)
« Back to News